All Rates are Tax Free 
(Uncle Sam approved!)
18′ KNOTYET – Currently Unavailable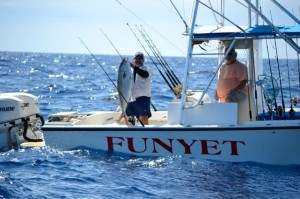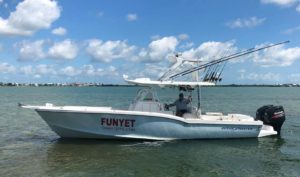 4 hour trip (half day) $550
6 hour trip (3/4 day) $750
8 hour trip (full day) $850
33′ FUNYET – Ocean Master
4 hour trip (half day) $750
6 hour trip (3/4 day) $1,000
8 hour trip (full day) $1,250
Evening tarpon trips $500
Sorry, offshore trips are not available on a half day charter.
Reservations
Deposits are secured with a credit card. We accept all major chipped credit cards. Charters paid in full with a credit card may incur a 3% additional charge due to our processing fees.
Cancellation Policy
If you cancel 7 days or more before your reserved charter you will receive a full refund.
Cancelling less than 7 days from your reservation date will incur a 50% charge of your selected charter price.
No call or no show within 24 hours of your charter will result is the full rate being charged.
Gratuity (Tipping)
Tips are always happily appreciated and should be based on the quality of service that you feel has been received. I don't want to brag but I'm confident you will leave with a smile on your face and a memory that will last a lifetime!
Call Captain John now to book your next fishing adventure!